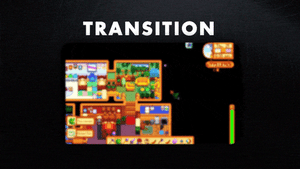 All designs have full compatibility with Streamlabs Desktop and StreamElements.

Unlock the extraordinary! ✨
Introducing our Lofi Witchcraft Stream Transition, a bewitching blend of modern mystique and enchantment that will transport you to a realm of timeless magic.


This product is part of our Lofi Witchcraft Stream Package. You can see all the animations and information below!
Drenched in an ethereal, resplendent shade of purple, this mesmerizing overlay conjures the essence of an otherworldly bedroom adorned with an array of mystical elements.
Embrace the magic! Let this charming purple sky sweep you into the next scene with our magical animated transition.
Meant for:
Twitch
Youtube
Facebook Gaming
Trovo
Works perfectly with:
Streamlabs Desktop
StreamElements
OBS Studio
Lightstream
XSplit
and more!
This package contains:
Animated Stinger Transition
Featured
Collections
Themes