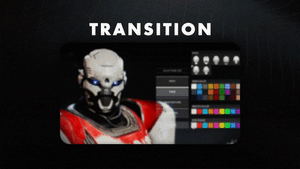 All designs have full compatibility with Streamlabs Desktop and StreamElements.


A gateway to the unknown! 🌌
As I gaze into the abyss of the universe, I behold a sight that leaves me breathless - the Dark Galaxy Stream Transition.
It embodies the enigmatic allure of the cosmos, blending the infinite expanse of space with a captivating aura of mystery.


This product is part of our Dark Galaxy Stream Package. You can see all the animations and information below!
The obsidian hues of black and crimson seamlessly merge to evoke a profound sense of awe and wonder. The stars glitter like diamonds in the darkness, their radiance piercing the veil of night. The galaxy swirls and twirls in a hypnotic dance, revealing its secrets one by one.

A vortex to another dimension that leads you to the next scene! Our animated transition beckons to the intrepid explorer, daring them to venture forth and discover what lies beyond.

Meant for:
Twitch
Youtube
Facebook Gaming
Trovo
Works perfectly with:
StreamElements
OBS Studio
Lightstream
XSplit
and more!
This package contains:
Animated Stinger Transition
Featured
Collections
Themes