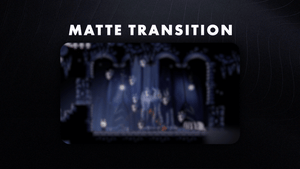 All designs have full compatibility with Streamlabs Desktop and StreamElements.

Dive into this enchanting visual experience! 💫
Introducing the Galaxy Wave Stream Transition – an exquisite blend of cosmic wonder and serene beauty that will transport your audience to a realm beyond imagination.


This product is part of our Galaxy Wave Stream Package. You can see all the animations and information about it below!
Step into a world where the night sky unfurls its breathtaking canvas, adorned with a mesmerizing tapestry of stars and galaxies that seem to whisper secrets of the universe.
Prepare for a beautiful matte transition! Seamless transitions come to life as a bright shooting star whisk you away to new scenes in a cinematic style.
Meant for:
Twitch
Youtube
Facebook Gaming
Trovo
Works perfectly with:
StreamElements
OBS Studio
Lightstream
XSplit
and more!
This package contains:
Animated Matte Transition
Featured
Collections
Themes