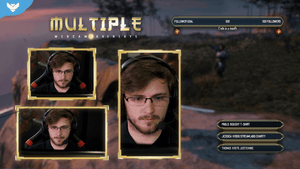 All designs have full compatibility with Streamlabs OBS and StreamElements.

The strength we need is here in 対馬! ⛩️

Introducing our Tsushima Stream Transition, inspired by one of the original eight islands created by the gods Izanagi and Izanami in Japanese mythology.
Drawn to the nighttime beauty of this Asian city, we created a design full of light and shadow effects that transports you into the night of Tsushima!
This product is part of our Tsushima Stream Package.

You can admire the golden moonlit landscape and its details all over the intermission screen.
The screen transition takes place with an animated landscape featuring a torii (a traditional Japanese gate signaling the entrance or proximity of a shrine) illuminated by moonlight, while flower petals fly in the Tsushima night!
This same landscape also features in our animated and sound alerts, bringing the beauty of the contrast between dark colors and vibrant gold to announce new messages on your screen!
It goes perfectly with oriental-themed games like Ghost of Tsushima and Sekiro: Shadows Die Twice!
Meant for:
Twitch
Youtube
Facebook Gaming
Trovo
Kick
Works perfectly with:
Streamlabs OBS
StreamElements
OBS Studio
Lightstream
XSplit
and more!
This package contains:
Animated Stinger Transition
Featured
Collections
Themes