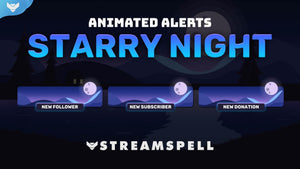 All designs have full compatibility with Streamlabs OBS and StreamElements.

Come and admire this beautiful night! 🌠
Our Starry Night Stream Alerts were developed for those who like to have a beautiful natural setting in their stream.
This product is part of our Starry Night Stream Package. You can see all the animations below!
Make a wish! Because our background has images of a starry night, where we can see a shooting star passing by.
The transition occurs with the Moon that fills your entire screen and colors such as blue, light pink and white give the charm to alerts that also have details in pixels.
This package has 2 versions: animated and non-animated. Feel free to pick the best one for you!

Meant for:
Twitch
Youtube
Facebook Gaming
Trovo
Kick
Works perfectly with:
Streamlabs OBS
StreamElements
OBS Studio
Lightstream
XSplit
and more!
This package contains:
Setup Tutorials
12 Animated Alerts

(without sound effects)

- Twitch, Youtube and Facebook Gaming
.AE
Featured
Collections
Themes