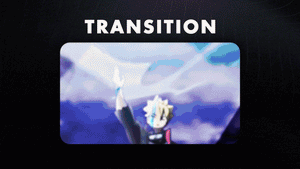 All designs have full compatibility with Streamlabs Desktop and StreamElements.

Prepare for an epic journey! ⛩️
Behold the majesty of the Shinobi Path Stream Transition, a breathtaking fusion of artistry and ancient that pays homage to the rich tapestry of Naruto's universe


This product is part of our Shinobi Path Stream Package. You can see all the animations and information below!
Unleash the power of Naruto's iconic Konoha Gate as you step into a mesmerizing stream package that defies boundaries and transports you to the heart of shinobi legend. 
Embark on a journey through time as Japanese parchments gracefully traverse the screen, guiding you seamlessly into the next scene with our animated transition.
Meant for:
Twitch
Youtube
Facebook Gaming
Trovo
Works perfectly with:
StreamElements
OBS Studio
Lightstream
XSplit
and more!
This package contains:
Animated Stinger Transition
Featured
Collections
Themes