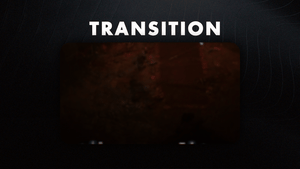 All designs have full compatibility with Streamlabs Desktop and StreamElements.

Embrace the darkness and command its might! 🔥

Introducing the Prime Demon: Terror Stream Transition, a mesmerizing masterpiece of darkness and power that will engulf your stream in an aura of malevolent grandeur.

The very essence of this package beckons you with its alluring golden aesthetic, beckoning you to the abyss of primeval might.erge.


This product is part of our Prime Demon: Terror Stream Package. You can see all the animations and informations about it below!
As you delve into the depths of this stream package, a resplendent golden background shimmers with an otherworldly allure, as though the molten gold of ancient civilizations was forged into a backdrop of unparalleled opulence. 
At the heart of this enigmatic masterpiece is the demon's golden mask, a relic of unparalleled dread and grandeur. This mask, adorned with intricate details, is a testament to the ageless malevolence that has plagued humanity throughout the eons. 
Prepare for our animated transition! A menacing sword's thunderous strike cleaves through, unveiling the demon mask and its formidable golden visage.
Meant for:
Twitch
Youtube
Facebook Gaming
Trovo
Works perfectly with:
Streamlabs Desktop
StreamElements
OBS Studio
Lightstream
XSplit
and more!
This package contains:
Setup Tutorials
12 Animated Alerts

(with sound effects)

-

Twitch, Youtube and Facebook Gaming
Featured
Collections
Themes