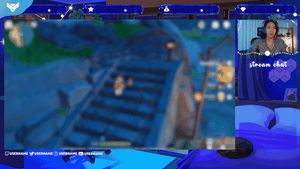 All designs have full compatibility with Streamlabs OBS and StreamElements.



"We're shining brightly in our own rooms, in our own stars!" 🌃

During this dark and peaceful night let's watch the moon together! It's time to iluminate your cozy bedroom in our new
Moon Night Stream Transition
!
This product is part of our Moon Night Stream Package. You can see all the animations and information below!
The lights coming from your bedroom window are also just like beautiful stars, that alongside a majestic sky, forms the most stunning night you've ever seen.

A beautiful color palette that brings purple and blue works perfectly with the peaceful vibe and the amazing illustration!

In our animated transition, a magical glow take you and your viewers to the next scene, alongside a sparkly sound!



Meant for:
Twitch
Youtube
Facebook Gaming
Works perfectly with:
Streamlabs OBS
StreamElements
OBS Studio
Lightstream
XSplit
and more!
This package contains:
Animated Stinger Transition
Featured
Collections
Themes