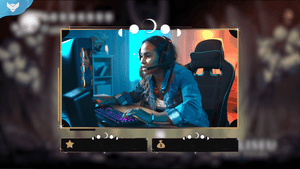 All designs have full compatibility with Streamlabs OBS and StreamElements.

Welcome to the evening show 🌜
This product is part of our Moon Dance Stream Package.
We present our newest Moon Dance Stream Transition, specially designed for Moonchild around the world! It matches perfectly with games like Destiny 2, Halo, Final Fantasy and even Just Chatting stream!
Meant for:
Twitch
Youtube
Facebook Gaming
Trovo
Kick
Works perfectly with:
Streamlabs OBS
StreamElements
OBS Studio
Lightstream
XSplit
and more!
This package contains:
Animated Stinger Transition
Featured
Collections
Themes