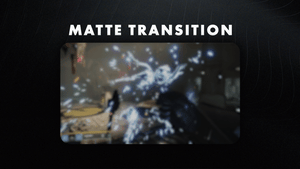 All designs have full compatibility with Streamlabs Desktop and StreamElements.

Embrace the darkness! ⚫
Step into the abyss of captivating darkness with our Minimal Dark Stream Transition – a cutting-edge immersion that transcends the boundaries of cool and edgy aesthetics.

This product is part of our Minimal Dark Stream Package. You can see all the animations and information about it below!
Immerse yourself in a world where obsidian black reigns supreme, punctuated by the luminous gleam of sleek, technological white accents.
Dare to defy convention as you embark on a streaming experience that exudes an air of mystery and sophistication. The black backdrop, like an infinite void, allows your content to take center stage, while the subtle white intricacies add a touch of elegance.
A white, technological X slices through your screen in our animated transition, transporting you to the next scene of your stream.
Meant for:
Twitch
Youtube
Facebook Gaming
Trovo
Works perfectly with:
StreamElements
OBS Studio
Lightstream
XSplit
and more!
This package contains:
Featured
Collections
Themes