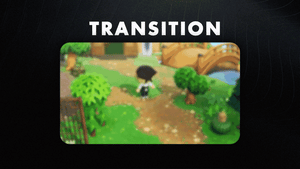 All designs have full compatibility with Streamlabs Desktop and StreamElements.

Midnight musings and cityscape dreams! 🌆

Introducing our Lofi Nightwalk Stream Transition, a mesmerizing journey through the tranquil streets of a digital dreamscape.
This enchanting package transports you to a serene, nocturnal world where the city comes alive with a gentle, hushed elegance.


This product is part of our Lofi Nightwalk Stream Package. You can see all the animations and informations about it below!
As you delve into this immersive experience, the screens capture the essence of a quiet, midnight stroll through the city's heart. The streets are wrapped in an inviting, soft glow, and the distant twinkle of store lights adding to the enchantment.
Seamless animated transitions shimmer with enchanting shades of midnight blues and dreamy purples, leading your audience to the next scene in your stream.
Meant for:
Twitch
Youtube
Facebook Gaming
Trovo
Works perfectly with:
Streamlabs Desktop
StreamElements
OBS Studio
Lightstream
XSplit
and more!
This package contains:
Animated Stinger Transition
Featured
Collections
Themes