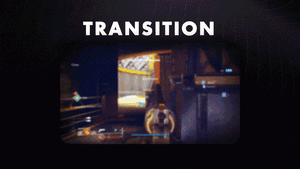 All designs have full compatibility with Streamlabs Desktop and StreamElements.

A journey through the infinite depths! 🌌
Welcome to the mesmerizing and enchanting world of the Infinity Stream Transition!
This incredible transition is like no other, with an animation that seems to stretch out into infinity.


This product is part of our Infinity Stream Package. You can see all the animations and information below!
The reflections and reflection waves dance across the screen, creating a kaleidoscope of stunning colors - from a romantic shade of pink to a deep, mysterious blue, and even a fiery red that will set your senses ablaze.
Take your viewers on an immersive journey with this animated transition. Its deep, dark aesthetic combined with captivating wave reflections creates an otherworldly feel that draws viewers in as if peering into the infinite.
Meant for:
Twitch
Youtube
Facebook Gaming
Trovo
Works perfectly with:
Streamlabs Desktop
StreamElements
OBS Studio
Lightstream
XSplit
and more!
This package contains:
Animated Stinger Transition
Featured
Collections
Themes