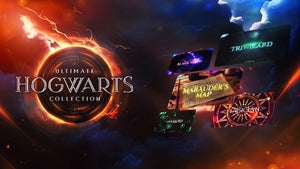 All designs have full compatibility with Streamlabs Desktop and StreamElements.



The train to Hogwarts has arrived! ✨

Are you ready for a spellbinding adventure? Look no further than the Ultimate Hogwarts Collection!

This exclusive bundle will transport you to a world of magic and wonder, inspired by the iconic world of Harry Potter and Hogwarts School of Witchcraft and Wizardry.



Inside this collection, you'll find 5 different stream packages, each with its own unique details, color palettes, and designs. Whether you're a fan of spellcasting, potions, or mythical creatures, there's something for everyone in this bundle.
Packed with transitions, alerts and different screen options, you can find all essential assets that you'll need as a contect creator and streamer!
This collection contains the following animated packages:
You can click in each one of them to check more information!
So what are you waiting for? Dust off your wand and get ready to embark on the ultimate magical journey. Don't miss out on this opportunity to add some enchantment to your streams!
Meant for:
Twitch
Youtube
Facebook Gaming
Trovo
Works perfectly with:
Streamlabs Desktop
StreamElements
OBS Studio
Lightstream
XSplit
and more!
Each of these 5 packages contains:
Setup Tutorials
4 Animated Screens - Starting, BRB, Ending, Intermission

1 Offline Screen

12 Animated Alerts - Twitch, Youtube and Facebook Gaming

Webcam Frame - 16:9

Modular Stream Labels Overlays - custom icons for each event
42 Stream Panels
Animated Stinger Transition
Social Media Headers - Twitch, Twitter, Youtube, Facebook
Social Media Profile Picture
Source Files (.PSD -

Only text)

After Effects Editable File (Only text)

Font
Featured
Collections
Themes