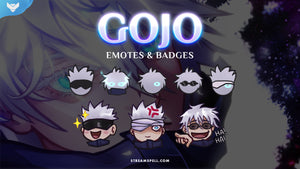 All designs have full compatibility with Streamlabs Desktop and StreamElements.
Unleash the magic and the power! 🌟


Introducing the Gojo Emotes & Badges - a delightful collection that captures the essence of Satoru Gojo from Jujutsu Kaisen.
This set combines the charm of cute emotes and collectible badges for a touch of Gojo's charisma in every interaction. Our bundle lets you choose the perfect way to show off your coolness! 
And if that wasn't enough, you can also choose to add in badges for an extra touch of adorable!
Whether you're a die-hard Satoru Gojo fan or simply searching for a charming way to showcase your love, this bundle has you covered.



Can be used on different platforms such as Twitch, Facebook Gaming, Youtube and Discord!
This product is part of our Gojo Stream Package. You can see all the animations and information below!
Meant for: 

Twitch
Youtube
Facebook Gaming
Discord


The Emotes option contains:
The Badge option contains:
Featured
Collections
Themes