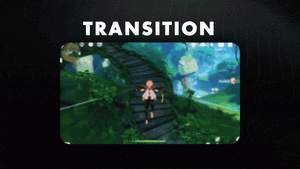 All designs have full compatibility with Streamlabs Desktop and StreamElements.

Getting lost in memories! 🌆
Introducing our Dusk Vibes Stream Transition, a visually stunning transition, that brings a unique lofi aesthetic to your stream.


This product is part of our Dusk Vibes Stream Package. You can see all the animations and information below!
Behold a breathtaking view of a classical Japanese arch that stands tall and proud, juxtaposed against the most stunning sunset you've ever laid your eyes on. The sky is painted with a myriad of warm and delicate hues, like soft pink, burnt orange, and golden yellow, all blending together in perfect harmony.
Get ready to be enchanted by the animated transition! Watch as a world of ethereal sparkles takes over your screen, leading you to your next scene with a captivating sense of wonder and magic.
Meant for:
Twitch
Youtube
Facebook Gaming
Trovo
Works perfectly with:
Streamlabs Desktop
StreamElements
OBS Studio
Lightstream
XSplit
and more!
This package contains:
Animated Stinger Transition
Featured
Collections
Themes