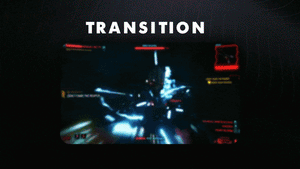 All designs have full compatibility with Streamlabs Desktop and StreamElements.

Welcome to a world where tradition meets rebellion! 👹
Behold the Demonpunk Stream Transition - a bold and mesmerizing fusion of dark elegance and rebellious radiance, unlike anything you've seen before!


This product is part of our Demonpunk Stream Package. You can see all the animations and information below!
Venture into the electrifying realm where ancient Japanese mysticism intertwines with the raw energy of punk rebellion. Carefully crafted to capture the essence of a vengeful Japanese demon, dancing in the bright colors.
Donning a vibrant tapestry of radiant colors, this unique design dares to stand apart from the conventional dark themes, elevating your streaming experience to an entirely new dimension.
Surrender to the awe-inspiring might of the our animated transition, as glitch effects and blazing colors guide you through a riveting passage to the next scene!
Meant for:
Twitch
Youtube
Facebook Gaming
Trovo
Works perfectly with:
StreamElements
OBS Studio
Lightstream
XSplit
and more!
This package contains:
Animated Stinger Transition
Featured
Collections
Themes