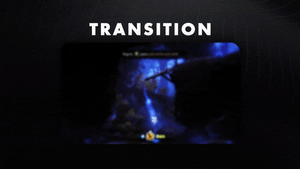 All designs have full compatibility with Streamlabs Desktop and StreamElements.


Darkness and light blending seamlessly! ⚫

Step into the enigmatic embrace of the Dark Void Stream Transition and unleash an ethereal aura upon your streams that will enchant your viewers. 


This product is part of our Dark Void Stream Package. You can see all the animations and information below!
A twilight tapestry of white and grey curved lines gracefully dances across your screen, weaving an intricate web of sophistication. Enveloped in an aura of coolness, your stream shall transcend the ordinary, capturing your audience in a fascinating embrace.

Enter the enigmatic realm with mesmerizing animated transitions and elegant alerts. Dark background, graceful white/grey curved lines, and seamless transformations. You'll travel through darkness and add a touch of elegance to your streams!
Meant for:
Twitch
Youtube
Facebook Gaming
Trovo
Works perfectly with:
StreamElements
OBS Studio
Lightstream
XSplit
and more!
This package contains:
Animated Stinger Transition
Featured
Collections
Themes