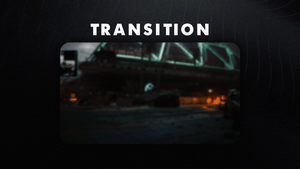 All designs have full compatibility with Streamlabs Desktop and StreamElements.


Radiate with the energy of the future! 💠
Step into the electrifying realm of the Cyber Neon Stream Transition, where the boundaries between reality and the digital frontier blur into a mesmerizing dance of neon.


This product is part of our Cyber Neon Stream Package. You can see all the animations and information below!
This cutting-edge package is a testament to sleek design and edgy aesthetics, a seamless fusion of bold lines and neon hues that resonate with the style of the digital elite.
Picture yourself bathed in the glow of futuristic lights, as your stream pulsates with an alluring cyber aura that captivates the senses.
Seamlessly teleport your audience with this animated transition. Neon lines converge, guiding you to the next scene in a mesmerizing journey through digital realms!
Meant for:
Twitch
Youtube
Facebook Gaming
Trovo
Works perfectly with:
StreamElements
OBS Studio
Lightstream
XSplit
and more!
This package contains:
Animated Stinger Transition
Featured
Collections
Themes