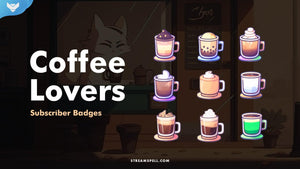 Fuel your passion for coffee with these cool and fun Coffee Lovers Sub Badges!
Featuring a variety of different coffee options and showcasing pretty details, these badges are a must-have for any coffee connoisseur. With a brown base color accented with pops of color, these badges are the perfect pick-me-up for any day.
So, grab your favorite brew and show the world your love for coffee with these amazing subscriber badges.

Can be used on different platforms such as Twitch, Facebook Gaming, Youtube and Discord!
Meant for: 


Twitch
Youtube
Facebook Gaming
Discord

This package contains:


9 Coffee Badges - 18px, 36px and 72px


Featured
Collections
Themes