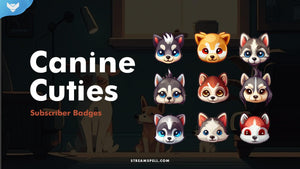 Paw-some fun awaits with these cute and endearing Canine Cuties Sub Badges!
Featuring a variety of adorable dog breeds and overflowing with cute details, these badges are the perfect accessory for any dog lover.
From their big, adorable eyes to their whimsical illustrations, these badges are sure to bring a smile to your face. So why wait? Get ready to unleash the cuteness and join the pack with these fun and adorable dog subscriber badges.

Can be used on different platforms such as Twitch, Facebook Gaming, Youtube and Discord!
Meant for: 


Twitch
Youtube
Facebook Gaming
Discord

This package contains:


9 Dog Badges - 18px, 36px and 72px


Featured
Collections
Themes