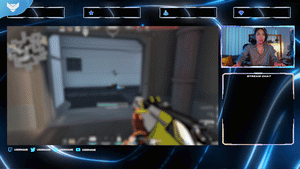 All designs have full compatibility with Streamlabs Desktop and StreamElements.



What color do you see? ✨
Watch the clean, glassy bubble dance in our 
Esports: Iridium Stream Transition
!
This product is part of our Esports: Iridium Stream Package. You can see all the animations and information below!
 
This design brings the versatility to match perfectly with every style of game you want to stream.

Just like the bubble we usually blow, the animated transition pops and drifts away with a satisfying trendy sound effect!





Meant for:
Twitch
Youtube
Facebook Gaming
Works perfectly with:
StreamElements
OBS Studio
Lightstream
XSplit
and more!
This package contains:
Animated Stinger Transition
Featured
Collections
Themes