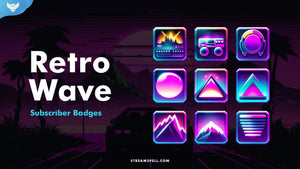 Get ready to ride the RetroWave with these fun and chill subscriber badges!
Featuring a vibrant blue-purple color palette and overflowing with retro details, these badges are the perfect accessory for anyone who loves the look and feel of the 80s and 90s.
So whether you're a fan of neon lights, chunky sneakers, or just love a good throwback, these badges have got you covered. 

Can be used on different platforms such as Twitch, Facebook Gaming, Youtube and Discord!
Meant for: 


Twitch
Youtube
Facebook Gaming
Discord

This package contains:


9 RetroWave Badges - 18px, 36px and 72px


Featured
Collections
Themes