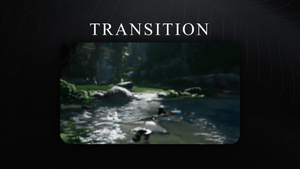 All designs have full compatibility with Streamlabs Desktop and StreamElements.

A sense of enchantment blossoms! 🌷
Introducing the enchanting Bellflowers Stream Transition, where minimalist charm meets ethereal allure. 


This product is part of our Bellflowers Stream Package. You can see all the animations and information below!
Immerse yourself in a mesmerizing world, draped in a velvety darkness that serves as a captivating backdrop. Within this mystical realm, delicate blossoms of pure wonder manifest in ethereal shades of enchanting pink.
Embark on a seamless journey through your stream with the animated transition. Watch as the mystical blossom gracefully blooms, guiding you to the next scene.
Meant for:
Twitch
Youtube
Facebook Gaming
Trovo
Works perfectly with:
StreamElements
OBS Studio
Lightstream
XSplit
and more!
This package contains:
Animated Stinger Transition
Featured
Collections
Themes